Algorithms for approximate multi-stage Flow-Shop-Problem solution
Keywords:
multi-stage schedules, flow-shop-problem, optimal sequences, lower bound of task execution time, approximate solution, heuristic algorithm
Abstract
The construction of multi-stage schedules for performing tasks on machines located in a sequential chain has many practical applications in discrete-production scheduling. Estimates are obtained for the lower bound of the performance criterion for the optimal sequence of tasks and 2 algorithms for approximate problem solving, ensuring that all work is performed at all stages of processing in the shortest possible time. The algorithms of the solution are illustrated by a numerical example. The estimates of the complexity of the proposed algorithms are given. The given algorithms for solving the problem can be used in the scheduling of the small- and medium-sized discrete production.
References
Konvej R.V. Teorija raspisanij / R.V. Konvej, V.L. Maksvell, L.V. Miller. — M.: Fizmatgiz, Nauka. 1975. — 359 s.
Zak Ju.A. Prikladnye zadachi teorii raspisanij i marshrutizatsii perevozok / Ju.A. Zak. — M.: URSS, 2012. — 394 s.
Zak Ju.A. Reshenie obobschennoj zadachi Dzhonsona s ogranichenijami na sroki vypolnenija zadanij i vremena raboty mashin. Ch.1. Tochnye metody reshenija / Ju.A. Zak // Problemy upravlenija. — 2010 — № 3. — S. 17–25. Ch. 2. Priblizhennye metody // Problemy upravlenija. — № 4. — 2010. — S. 12–19.
Zgurovskij M.Z. Prinjatie reshenij v setevyh sistemah s ogranichennymi resursami / M.Z. Zgurovskij, A.A. Pavlov. — K.: Nauk. dumka, 2010. — 573 s.
Johnson S.M. Optimal two- and three-stage production schedules with setup times included / S.M. Johnson // Naval research logistics quarterly. — 1954. — 1(1). P. 61–68.
Brucker P. Scheduling Algorithms / P. Brucker. — Berlin, Heidelberg und New York: Springer-Verlag, 1998.
Domschke W. Produktionsplanung. Ablauforganisatorische Aspekte / W. Domschke, A. Scholl, S. Voß. — Berlin, Heidelberg: Springer Verlag, 2005. — 456 p.
Ho J.C. A new heuristic for the n-job, M-machine problem / J.C. Ho, Y.-L. Chang // European Journal of Operational Research. — 1991. — 52. — P. 194–202.
Ogbu F.A. The application of the simulated annealing algorithm to the solution of the flow-shop problem / F.A. Ogbu, D.K. Smith // Computer & Operations Research. — 1990. — 17. — P. 243–253.
Hundal T.S. An extension of Palmer's heuristic for the flow-shop scheduling problem / T.S. Hundal, J. Rajgopal // International Journal of Production Research. — 1988. — 26. — P. 1119–1124.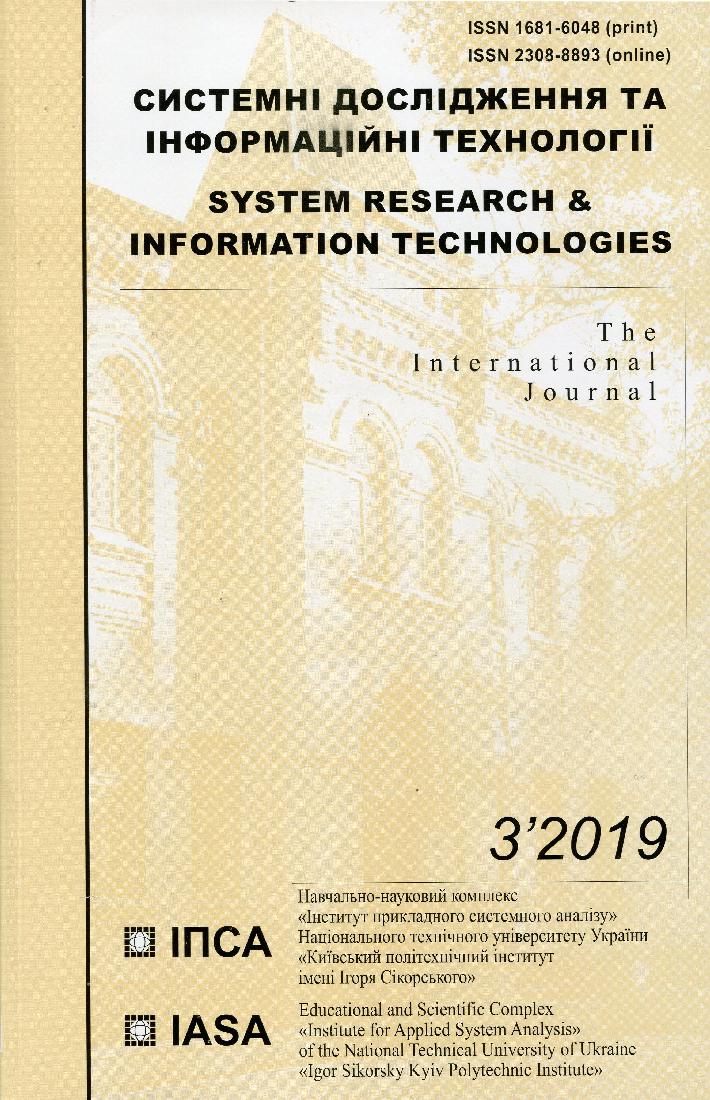 Downloads
Section
Mathematical methods, models, problems and technologies for complex systems research
License
This is an open access journal which means that all content is freely available without charge to the user or his/her institution. Users are allowed to read, download, copy, distribute, print, search, or link to the full texts of the articles in this journal without asking prior permission from the publisher or the author. This is in accordance with the BOAI definition of open access.