Multidimensional control system synthesis for a precision air-conditioner
Keywords:
artificial microclimate system, industrial air conditioner, automatic control system, linear quadratic digital regulator, optimization
Abstract
The article considers the synthesis procedure for multidimensional digital controller embedded into industrial artificial microclimate systems. The methodology is proposed for constructing the complex dynamic mathematical model for industrial air conditioners represented in the state space of a combined multidimensional controlled system. An analysis of possible control system optimization criteria is performed. Also, the synthesis procedure for an optimal multidimensional digital linear quadratic controller is given. The feedback matrix is synthesized that determines the control vector optimal trajectory using controlled system states by minimizing the quadratic quality criterion. The proposed multidimensional linear digital controller has a feature of logical selection for elements of industrial equipment for performing the optimal control of a microclimate conditioner. The proposed approach allows for reconfiguring the synthesis procedure for the industrial conditioners automatic control system on the basis of delimiting the mutual influence of control parameters.
References
Belova E.M. Tsentral'nye sistemy konditsionirovanija vozduha v zdanijah / E.M. Belova. — M.: Evroklimat, 2006. — 640 s.
Bondar' E.S. Avtomatizatsija sistem ventiljatsii i konditsionirovanija vozduha / E.S. Bondar', A.S. Gordienko, V.A. Mihajlov, G.V. Nimich. — K.: OOO "Izdatel'skij dom "Avanpost–Prim", 2005. — 560 s.
Vychuzhanin V.V. Povyshenie effektivnosti ekspluatatsii sudovoj sistemy komfortnogo konditsionirovanija vozduha pri peremennyh nagruzkah / V.V. Vychuzhanin. — Odessa: ONMU, 2009. — 206 s.
Holinko I.M. Pryntsypy syntezu avtomatychnykh system keruvannja promyslovymy kondytsioneramy / I.M. Holinko // Avtomatyzatsija tekhnolohichnykh i biznes-protsesiv. — 2016. — № 8. — S. 33–42.
Rymkevich A.A. Sistemnyj analiz optimizatsii obscheobmennoj ventiljatsii i konditsionirovanija vozduha / A.A. Rymkevich. — M.: Strojizdat, 2003. — 272 s.
Holinko I.M. Dynamichna model' teplomasoobminu dlja vodjanoho okholodzhuvacha promyslovoho kondytsionera / I.M. Holinko // Naukovi visti NTUU "KPI". —2014. — № 6. — S. 27–34.
Golinko I. Mathematical model of heat exchange for non-stationary mode of water heater / I. Golinko, I. Galytska // ICCSEEA, 2019. — P. 58–67.
Holinko I.M. Matematychne modeljuvannja protsesiv teplo- ta masoobminu dlja kamery parovoho zvolozhennja / I.M. Holinko, I. Ye.Halyts'ka, V.Ju. Stepanenko // Prykarpats'kyj visnyk NTSh. Serija Chyslo. — 2014. — № 1(25). — S. 54–62.
Holinko I.M. Dynamichna model' teplomasoobminnykh protsesiv u kameri forsunochnoho zvolozhennja / I.M. Holinko, A.I. Kubrak, I.Ye. Halyts'ka // Informatsijni systemy, mekhanika ta keruvannja. — 2014. — № 11. — S. 61–71.
Holinko I.M. Promyslove prymishchennja jak dynamichnyj element systemy keruvannja shtuchnym mikroklimatom / I.M. Holinko, I.Ye. Halyts'ka // Informatsijni systemy, mekhanika ta keruvannja. — 2018. — № 18. — S. 104–114.
Holinko I.M. Optymizatsija systemy keruvannja za modul'nym kryteriyem jakosti / I.M. Holinko, I.Ye. Halyts'ka // Informatsijni systemy, mekhanika ta keruvannja. 2013.— № 9. — S. 105–113.
Rej U. Metody upravlenija tehnologicheskimi protsessami / U. Rej. — M.: Mir, 1983. — 368 s.
Kuo B. Teorija i proektirovanie tsifrovyh sistem upravlenija / B. Kuo, per. s angl. — M.: Mashinostroenie, 1986. — 448 s.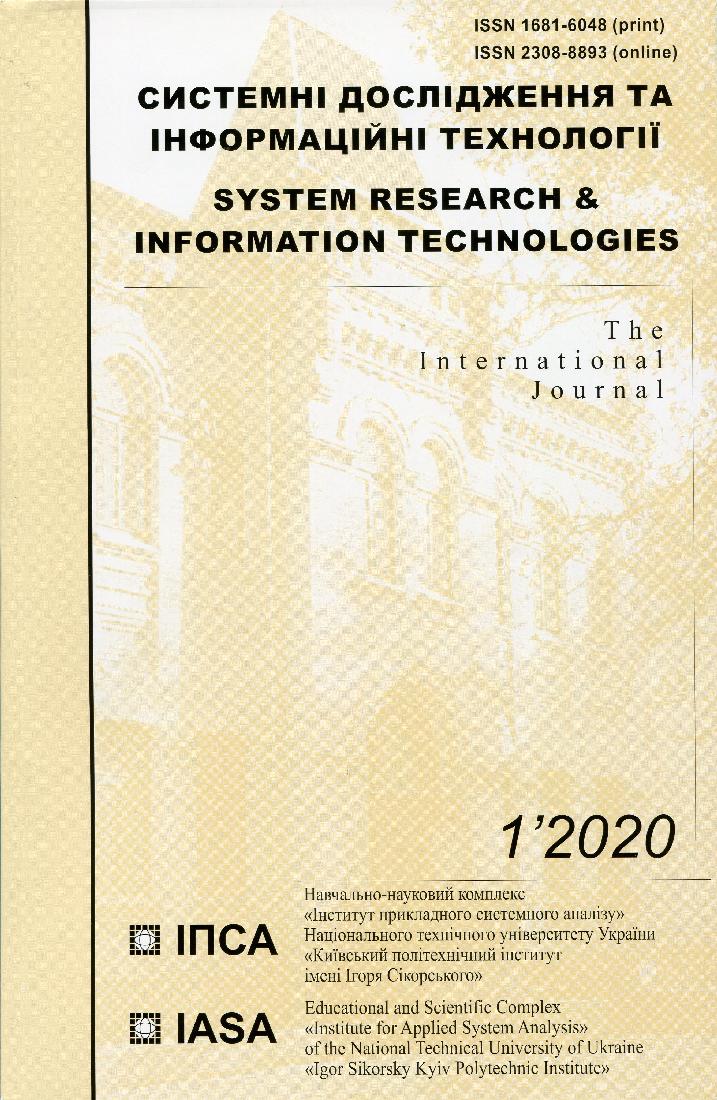 Downloads
Section
Progressive information technologies, high-efficiency computer systems
License
This is an open access journal which means that all content is freely available without charge to the user or his/her institution. Users are allowed to read, download, copy, distribute, print, search, or link to the full texts of the articles in this journal without asking prior permission from the publisher or the author. This is in accordance with the BOAI definition of open access.