Regression models application for analysis and forecasting of the financial activity quality indicators of the company
Keywords:
regression models, seasonal autoregression model with integrated moving average, linear multiple regression, data processing, heteroskedastic models
Abstract
The company's success forecasting problem based on its financial indicators by regression models was studied in this research. Models based on linear multiple regression, autoregression with moving average, autoregression with integrated moving average, and seasonal model of autoregression with integrated moving average were built to predict the absolute value of financial indicators. An experimental study was performed on real data, and forecasting was made based on regression models. The models based on the method of group method of data handling and autoregressive neural network were developed. Heteroskedastic models with variable volatility such as ARCH and GARCH type were used to predict the volatility of the financial series. Preliminary data processing using the Holt-Winters method and the Kalman filter were applied to improve the model's quality and forecasting accuracy significantly. Authors suggested and developed a combination of seasonal autoregression with integrated moving average and heteroskedastic models that allowed them to consider the seasonal effects and trends inherent in the financial series and obtain high forecasts for financial indicators.
References
P.I. Bidyuk, V.D. Romanenko, and O. L. Timoshchuk, Time Series Analysis. Kyiv: Polytechnika, NTUU "KPI", 2013.
G.E.P. Box and G.M. Jenkins, Time Series Analysis: Forecasting and Control. San Francisco: Holden-Day, 1970.
N.V. Kuznietsova and P.I. Bidyuk, Theory and practice of financial risk analysis: systemic approach. Kyiv: Lira-K, 2020.
R.F. Engle, "Autoregressive conditional heteroscedasticity with estimates of the variance of United Kingdom inflation", in Econometrica, vol. 50, pp. 987–1007, 1982.
T. Bollerslev, "Generalized autoregressive conditional heteroskedasticity", in Journal of Econometrics, vol. 31, pp. 307–327, 1986.
L.G. Saetova, "The Main Modifications ARCH Models", in Problems of Economics and Management, no. 6 (34), pp. 61–63, 2014.
M.Z. Zgurovsky and V.N. Podladchikov, Analytical methods of Kalman filtering for systems with a priori uncertainty. Kiev: Naukova Dumka, 1995.
N.V. Kuznietsova and P.I. Bidyuk, "Business Intelligence Techniques For Missing Data Imputation", in Research bulletin of NTUU "KPI", no. 5, pp. 47–56, 2015.
Th.R. Robinson, H. Greuning, E. Henry, and M.A. Broihahn, International Financial Statement Analysis. New Jersey: John Wiley & Sons, Inc. 2009.
M.Z. Zgurovsky and Y.P. Zaychenko, The Fundamentals of Computational Intelligence. Kyiv: Naukova Dumka, 2013.
N.V. Kuznyetsova, "Integrated approach to credit risks estimation", in Proceedings of Odessa Polytechnic University, no. 1(33)–2(34), pp. 187–192.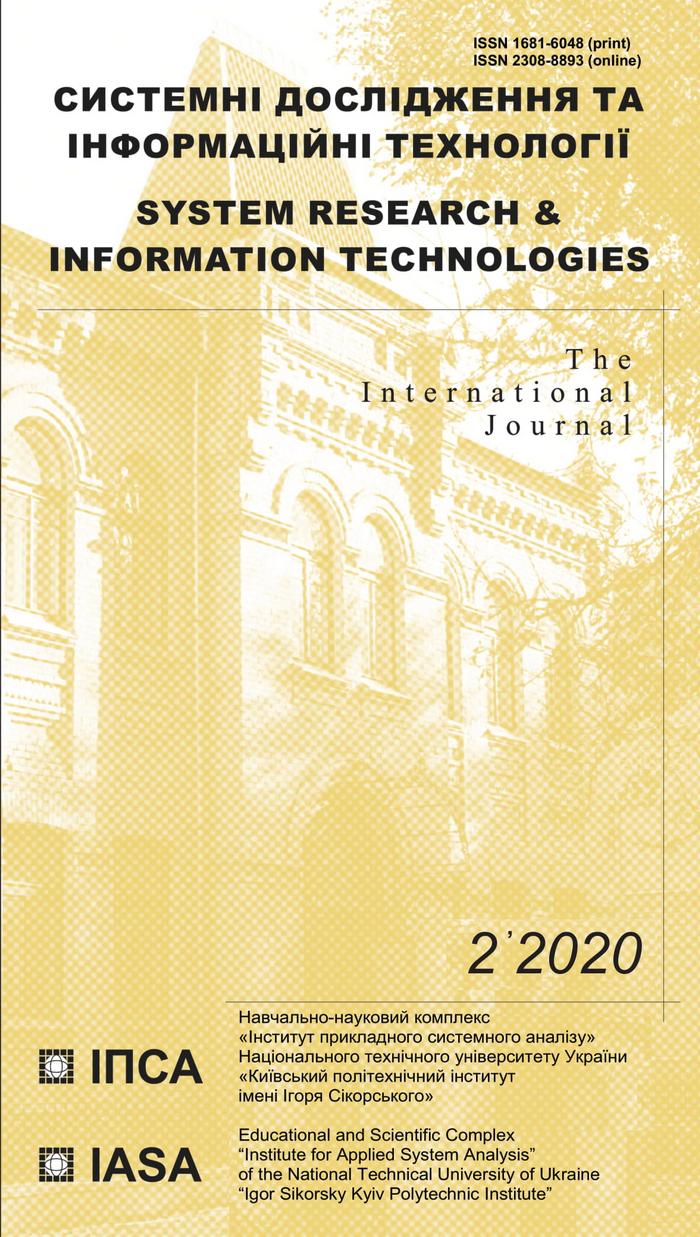 Downloads
Section
Decision making and control in economic, technical, ecological and social systems
License
This is an open access journal which means that all content is freely available without charge to the user or his/her institution. Users are allowed to read, download, copy, distribute, print, search, or link to the full texts of the articles in this journal without asking prior permission from the publisher or the author. This is in accordance with the BOAI definition of open access.