Digital science program "Horizon 2020"
Abstract
The digital science, which relies on the use of electronic infrastructures, services, and tools based on ICT, makes scientific processes more efficient and transparent, offers new tools for scientific collaboration, experimentation, and analysis, and makes scientific knowledge more accessible. At the same time, the digital science contributes to the emergence of new scientific methods, disciplines, and paradigms to respond to new challenges through the global distribution of the communities in which individuals and the society are directly involved in the creation and consumption of scientific knowledge. The paper discusses the plans and arrangements of development and use of the digital science in European programs. They are about means to coordinate and support the formation and functioning of an open homogeneous Federated productive infrastructure for the whole of Europe, the single digital Research Area ERA (European Research Area). EGI (European Grid Infrastructure) plays a key role in the provision of services in this online European Research Area, which unifies and supports researchers of different disciplines, enabling them to process the data obtained in the integrated European computing environment. Such an example of the European organization and the active supporting research is very instructive for Ukraine.
References
Zhurovs'kyj M.Z., Petrenko A.I. Stanovlennja i horyzonty tsyfrovoyi nauky // Systemni doslidzhennja ta informatsijni tekhnolohiyi. — 2014. — № 4. — S. 7–19.
Digital Science. — http://ec.europa.eu/digital-agenda/digital-science.
Tom Bo Clausen. DG INFSO (soon to be DG CONNECT), Unit C2: Strategy and Innovation. — http://cordis.europa.eu/fp7/ict/ssai/docs/future-cc-2may-clausenpresentation.pdf.
Horizon 2020 Programme. — http://cerneu.web.cern.ch/horizon2020.
Horizon 2020 Work Programme Summaries. — http://exquisitelife.researchresearch.com/exquisite life/ horizon-2020-work-programme-summaries.html.
Horizon 2020 – Vision 2020: The Horizon Network. — www.2020visionnetwork.eu/horizon 2020/.
Horizon 2020 // Derzhavne ahentstvo z pytan' elektronnoho urjaduvannja Ukrayiny. — http://old.dknii.gov.ua/ ?q=node/1736.
Communications Networks, Content and Technology. European Commission Directorate General. — http://ec.europa.eu/dgs/connect/what-we-do.
Recommendations for the European Commission — recode. — http://recodeproject.eu/wp-content uploads/2013/04/2013__OARD_ Recommendations_public.pdf.
Calls – Research Participant Portal – European Commission. — http://ec.europa.eu/research/ .participants/.../h2020/.
Digital Science in Horizon 2020. — https://www.google.com.ua/#q=11.%09Digital+science+in+Horizon+2020.
Shljakh do Yevropejs'koho hrid / Red. Zahorodnij A.H., Zhurovs'kyj M.Z. — K.: Politekhnika, 2013. — 258 s.
Ala-MutkaK. Review of Learningin ICT-enabled Networks and Communities. — http://ipts.jrc.ec.europa.eu/publications/pub.cfm?id=2721.
Hay T., Trefethen A. The UK e-Science Core Programme and the Grid // Future Generation Computer Systems. — 2002. — №18. — P. 1017–1031.
Nielsen M. Reinventing discovery: the new era of networked science. — New Jersey: Princeton University Press, 2012. — 272 p.
Burgelman J., OsimoD., Bogdanowicz M. Science 2.0, FirstMonday, 15(7), 2012. — http://firstmonday.org/htbin/cgiwrap/bin/ojs/index.php/fm/article/viewArticle/2961/2.
Digital Culture and Europeana. — http://ec.europa.eu/dgs/connect/en/content/digitalculture-and-europeana.
Atkins D.E., Droegemeier K.K., Feldman S.I., Garcia-Molina H., Klein M.L., Messina P. Revolutionizing Science and Engineering through Cyberinfrastructure: Report of the National Science Foundation Blue-Ribbon Advisory Panel on Cyberinfrastructure. Washington, DC: National Science Foundation. — www.nsf.gov/cise/sci/reports/atkins.pdf.
Hay T., Tansley S., Tolle K. (eds.). The Fourth Paradigm: Data-Intensive Scientific Discovery. — http://research.microsoft.com/en-us/collaboration/ fourthparadigm/.
Jankowski N.W. Exploring e-science: An introduction // Journal of Computer-Mediated Communication. — 2007. — N 12(2), article 10. — P. 549–562. — http://jcmc.indiana.edu/vol12/ issue2/janakowski.html.
Nentwich M. Cyberscience: Research in the Age of the Internet. Vienna: Austrian Academy of Sciences, 2003. — http://hw.oeaw.ac.at/3188-7.
DG Connect priorities. — http://ec.europa.eu/dgs/connect/en/content/mission-andpriorities.
European Grid Infrastructure. — www.egi.eu/.
The EGI strategy for 2020: Secure, federated data-analysis capability for the ERA - http://www.egi.eu/export/sites/egi/news-and-media/publications/EGI-GrandVision-V6.pdf.
EGI Federated cloud. — http://www.egi.eu/solutions/fed-cloud/index.html.
EGI Federated operations. — http://www.egi.eu/solutions/fed-ops/index.html.
EGI High-throughput data analysis. — http://www.egi.eu/solutions/htc/index.html.
EGI Community-driven innovation and support. — http://www.egi.eu/solutions/community-innovation-support/index.html.
EGI Platform architecture. — http://www.egi.eu/infrastructure/architecture/.
EGI service catalogue. — http://www.egi.eu/services/catalogue/.
EGI Applications database (AppDB). — http://www.egi.eu/services/catalogue/appdb.html.
EGI Public Service Review brochure 2013. — http://www.egi.eu/news-andmedia/publications/.
Tiziana Ferrari. EGI – future strategies for the European Research Area. — EGI User Forum 2014 Book of Abstracts, Helsinki, May 2014.
EGI-In SPIRE (Integrating Resources into the EGI Production Infrastructure). — http://infrastructure.kiev.ua/upload/Integrating_Resources_into_EGI.pdf.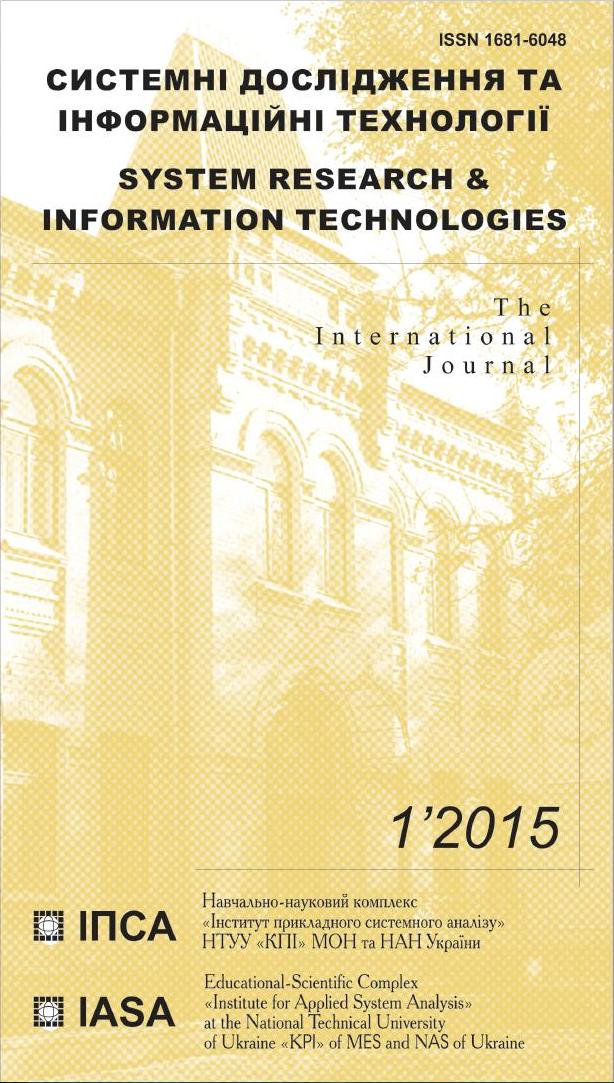 Downloads
Section
Theoretical and applied problems and methods of system analysis
License
This is an open access journal which means that all content is freely available without charge to the user or his/her institution. Users are allowed to read, download, copy, distribute, print, search, or link to the full texts of the articles in this journal without asking prior permission from the publisher or the author. This is in accordance with the BOAI definition of open access.