Theoretical methodical foundations of natural anthropogenic objects comprehensive analysis and ecological assessment
Abstract
The new approach in assessing the natural and anthropogenic objects' state from the sustainable development point of view based on the different stages of their study is proposed. The comprehensive assessment based on MIPS-analysis and risk-estimation of the state of economic, ecological, and social constituent objects are used to improve the quality of decision-making to reduce the risk level in the natural and anthropogenic complexes' state. This article offers the algorithmic support for implementing the comprehensive methodology for assessing the conformance of ecological, social, and economical aspects of systems to ecological quality requirements.
References
Zgurovskij M.Z. Global'noe modelirovanie protsessov ustojchivogo razvitija v kontekste kachestva i bezopasnosti zhizni ljudej / M.Z. Zhurovskyj, A.D. Hvyshyany. — K.: Politekhnika. 2008. — 331 c.
Yemel'janova D.I. Metodychno-informatsijne zabezpechennja kompleksnoyi otsinky pryrodno-tekhnohennykh kompleksiv / D.I. Yemel'janova // "Ekologo-pravovye i ekonomicheskie aspekty tehnogennoj bezopasnosti regionov": materіali VIII mіzhnar. nauk.-prakt. konf. — H.: HNADU, 2013. — S. 112–117.
Kozulja T.V. Kompleksna ekolohichna otsinka pryrodno-tekhnohennykh kompleksiv na osnovi MIPS- i ryzyk-analizu / T.V. Kozulja, D. I. Yemel'janova, M.M. Kozulja // Vostochnoevrop. zhurn. peredovyh tehnologij. — H., 2014. — № 3 (69). — S. 8–14.
Kozulja T.V. Vykorystannja MI-chysel pry formuvanni kompleksnoyi otsinky ekolohichnosti vyrobnytstva i PTK / T.V. Kozulja, D.I. Yemel'janova // Systemnyj analiz ta informatsijni tekhnolohiyi: materialy 15 Mizhnar. nauk.-tekhn. konf. SAIT. — K.: NNK "IPSA" NTUU "KPI", 2013. — S. 115–116.
Zvjahintseva H.V. Pryntsypy otsinky ekolohichnykh ryzykiv pry zabrudnenni navkolyshn'oho pryrodnoho seredovyshcha / H.V. Zvjahintseva // Zb. tez dop. uchasnykiv III Vseukr. nauk-prakt. konf. "Okhorona navkolyshn'oho seredovyshcha promyslovykh rehioniv jak umova staloho rozvytku Ukrayiny". — Zaporizhzhja: Finvej, 2007. — S. 156–159.
Integrated Risk Information System. — Available at: https://www2.epa.gov/iris.
Kovalenko H.D. Ekolohichnyj ryzyk pohirshennja stanu navkolyshn'oho pryrodnoho seredovyshcha Ukrayiny pry zberezhenni isnujuchykh tendentsij antropohennoho navantazhennja / H.D. Kovalenko, H.V. Piven', O.V. Rybalova // Ekolohichna bezpeka: problemy i shljakhy vyrishennja : zb. nauk. prats' Mizhnar. nauk.-prakt. konf. — Kh., 2009. — T. 1. — S. 52–56.
Lysychenko H.V. Metodolohija otsinjuvannja ekolohichnykh ryzykiv / H.V. Lysychenko, H.A. Khmil', S.V. Barbashev. — Odesa: Astroprynt, 2011. — 368 s.
Kozulja T.V. Teoretyko-praktychni osnovy metodolohiyi kompleksnoyi otsinky ekolohichnosti terytorial'nykh i ob'yektovykh system / T.V. Kozulja, N.V. Sharonova, D.I. Yemel'janova, M.M. Kozulja // Problemy informatsijnykh tekhnolohij. 2012. — № 01 (011). — S. 37–45.
Bespalov V.I. Metodicheskie osnovy sotsio-ekologo-ekonomicheskoj otsenki sostojanija okruzhajuschej sredy territorij promyshlennyh zon krupnyh gorodov / V.I. Bespalov, E.V. Kotljarova // "Stroitel'stvo 2011": materialy Mezhdunar. nauch.-prakt. konf. — Rostov n/D: Rost. gos. stroit. un-t, 2011. — S. 57–64 .
Ritthoff M. Calculating MIPS – Resource Productivity of Products and Services / M. Ritthoff, H. Rohn, C. Liedtke. — Wuppertal, 2003. — Available at: http://www.mips.online.info.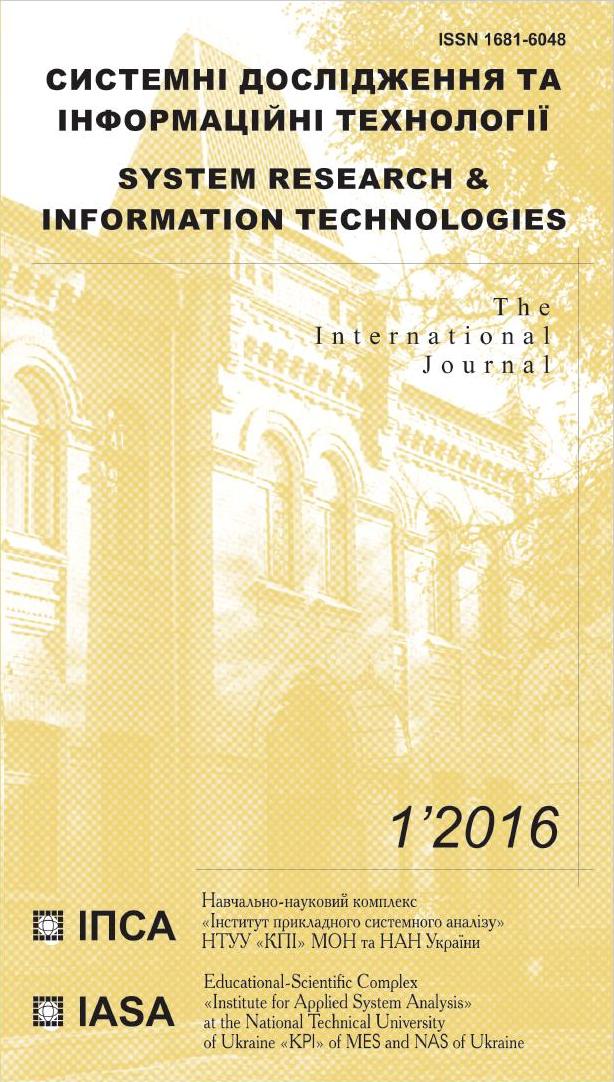 Downloads
Section
Decision making and control in economic, technical, ecological and social systems
License
This is an open access journal which means that all content is freely available without charge to the user or his/her institution. Users are allowed to read, download, copy, distribute, print, search, or link to the full texts of the articles in this journal without asking prior permission from the publisher or the author. This is in accordance with the BOAI definition of open access.