Use of ontological analysis for evaluation of expert competences in the domain of national standards develoment
Keywords:
standardization, ontology, scientometric indicators, competence
Abstract
The necessity and urgency of the implementation of standards and their harmonization with international ones are analyzed using the information technology domain and problems related to it as an example. Objective methods of competence evaluation of experts and developers of Ukrainian national standards are proposed. The methods presented in this article are based on the semantic matching of the standard description with documents that characterize developer expertise in the chosen domain. In addition, we propose to use the knowledge acquired from the open Web environment: Wіkі resources, scientometric databases, official sites of organizations and accompanying metadata, domain ontologies, etc. These informational resources are integrated based on the specialized ontology of a scientific activity which allows to standardize the terminology systems of potential experts qualifications.
References
Zakon Ukrayiny "Pro standartyzatsiju". Verkhovna Rada Ukrayiny, Zakon vid 05.06.2014, № 1315 – VII. — http://zakon0.rada.gov.ua/laws/show/1315-18
DSTU 1.1:2015 Natsional'na standartyzatsija. Standartyzatsija ta sumizhni vydy dijal'nosti. Slovnyk terminiv. — Chynnyj vid 20.12.2015.
DSTU 1.2:2015 Natsional'nyj standart Ukrayiny. Natsional'na standartyzatsija. Pravyla provedennja robit z natsional'noyi standartyzatsiyi. — Chynnyj vid 20.12.2015.
DSTU 1.7:2015 Natsional'na standartyzatsija. Pravyla ta metody pryjnjattja mizhnarodnykh i rehional'nykh normatyvnykh dokumentiv. — Chynnyj vid 20.12.2015.
Hladun A.Ja. Osnovy metodolohiyi formuvannja tezaurusiv z vykorystannjam ontolohichnoho ta mereolohichnoho analizu / A.Ja. Hladun, Ju.V. Rohushyna // Iskusstvennyj intellekt, 2008. — № 5. — S.112–124.
Hrytsyk N. Komp'juterna terminolohija ta osnovni sposoby yiyi perekladu / N. Hrytsyk // KhVIII Mizhnarodna naukovo-praktychna Internet-konferentsija "Problemy ta perspektyvy rozvytku nauky na pochatku tret'oho tysjacholittja", Perejaslav-Khmel'nyts'kyj, 2013. — S. 45–52.
Tsytsyliano O. Kreatyvnist' ta standartyzatsija jak osnova konkurento-spromozhnosti orhanizatsiyi / O. Tsytsyliano // Standartyzatsija. Sertyfikatsija. Jakist'. — 2007. — № 1 (44). — S. 42–44.
Domantsevych R.I. Osnovy standartyzatsiyi, metrolohiyi ta upravlinnja jakistju / R.I. Domantsevych, I.S. Polikarpov, B.P. Jatsyshyn. — K.: NMTs "Ukooposvita", 1997. — 219 s.
Kostenko L.J. Naukova periodyka Ukrayiny ta bibliometrychni doslidzhennja / L.J. Kostenko, O.I. Zhabin, Ye.O. Kopanyeva, T.V. Symonenko // NAN Ukrayiny, Nats. b-ka Ukrayiny im. V. I. Vernads'koho. — K., 2014. — 173 s.
Rogushina J. Ontology-based competency analysis in new research domains / J. Rogushina, A. Gladun // Journal of Computing and Information Technology. — 2012. — 23, N 4. — P. 123–134.
Nalimov V.V. Naukometrija: Izuchenie razvitija nauki kak informatsionnogo protsessa / V.V. Nalimov, Z.M. Mul'chenko. — M.: Nauka, 1969. — 192 s.
Shtovba S.D. Obzor naukometricheskih pokazatelej dlja otsenki publikatsionnoj dejatel'nosti uchenogo / S.D. Shtovba, E.V. Shtovba // Naukometrija i ekspertiza v upravlenii naukoj. — M.: IPU RAN, 2013. — S. 262–278.
Burkov V.N. Parametry tsitiruemosti nauchnyh publikatsij v naukometricheskih bazah dannyh / V.N. Burkov, A.A. Beloschitskij, V.D. Gogunskij // Upravlinnja rozvytkom skladnykh system. — 2013. — Vyp. 15. — S. 134–139.
Hirsch J.E. An index to quantify an individual's scientific research output / J.E. Hirsch // Proc. Of the National academy of Sciences of the United States of America. — 2005. —102(46). — P. 16569–16572.
Hladun A.Ja. Semantychni tekhnolohiyi: pryntsypy ta praktyky: monohr. / A.Ja. Hladun, Ju.V. Rohushyna. — K.: Universarium, 2016. — 314 s.
Hladun A.Ja. DSTU ISO/IEC TR 10000-1:2004 "Informatsijni tekhnolohiyi. Osnovy ta taksonomija mizhnarodnykh standartyzovanykh profiliv. Chastyna 1. Zahal'ni pryntsypy ta osnovy dokumentuvannja". — K.: Derzhspozhyvstandart, 2004. — 20 s. — Chynnyj vid 01.01.2006.
Rohushyna Ju.V. Ontolohichnyj analiz u Web: monohr. / A.Ja. Hladun, V.V. Osadchyj, S.M. Pryjma. — Melitopol': MDUPU im. Bohdana Khmel'nyts'koho, 2015. — 407 s.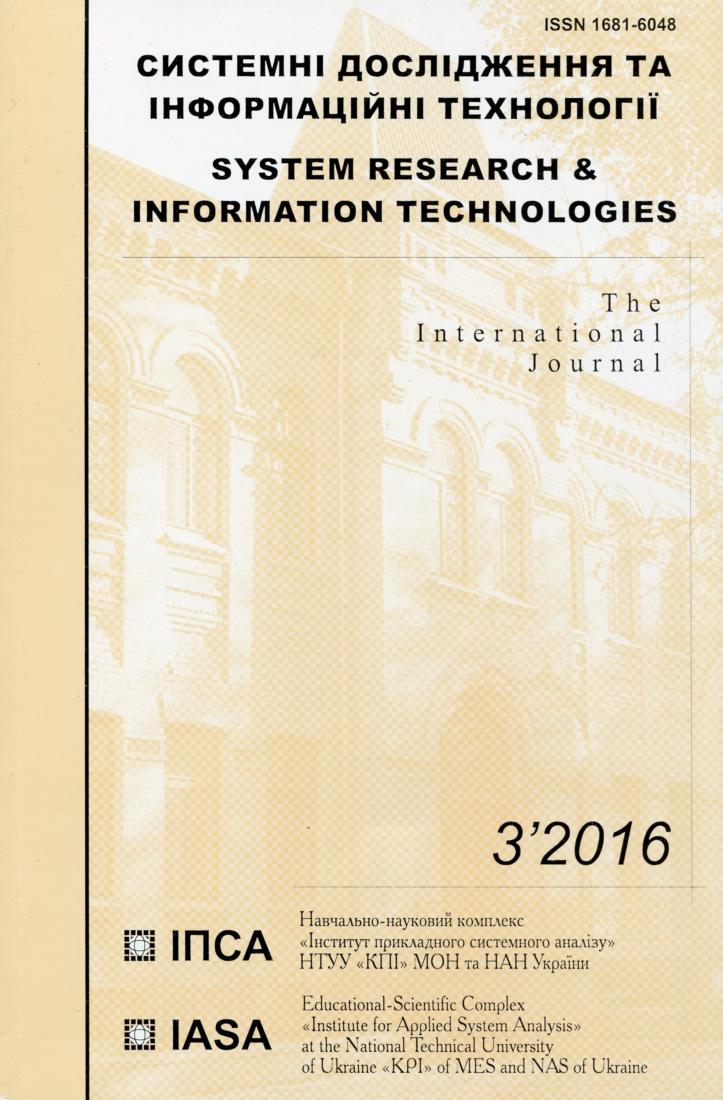 Downloads
Section
Progressive information technologies, high-efficiency computer systems
License
This is an open access journal which means that all content is freely available without charge to the user or his/her institution. Users are allowed to read, download, copy, distribute, print, search, or link to the full texts of the articles in this journal without asking prior permission from the publisher or the author. This is in accordance with the BOAI definition of open access.